This field is dedicated to tracking down photography projects, which revolve around a philosopher or have been inspired by his life, an aspect of his work or a specific concept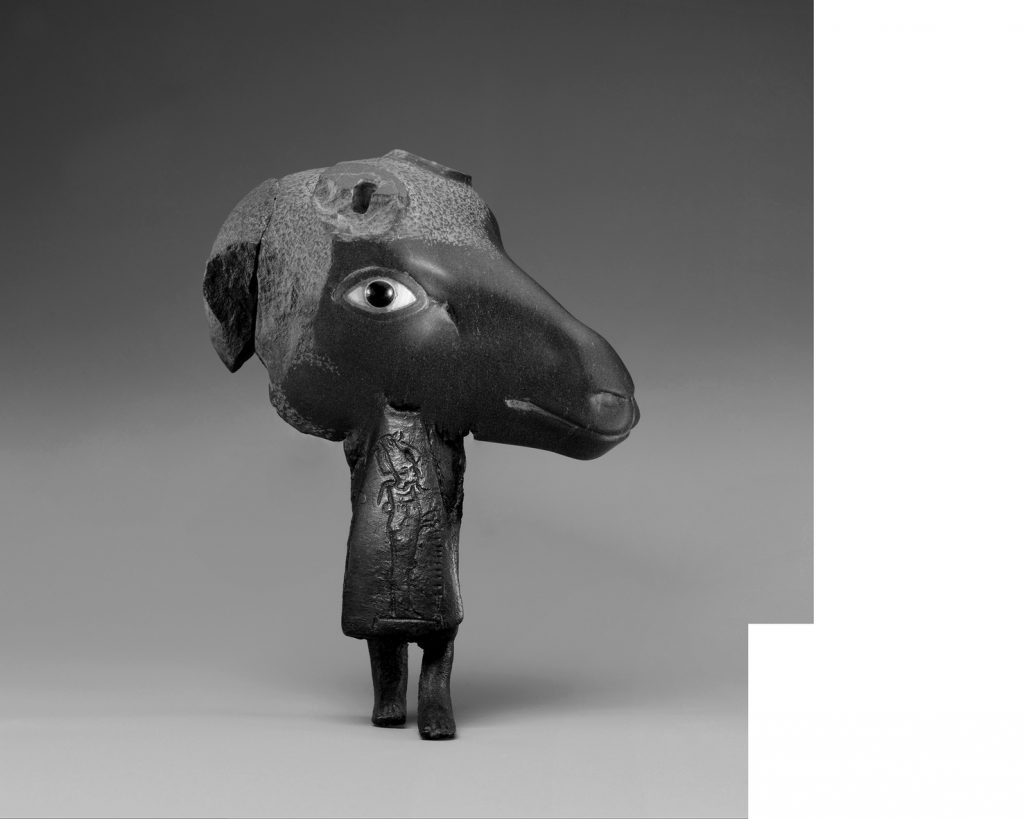 Read the abstract
Photography generated by customized digital software.
Erik Berglin & Clement Valla
It is well known to art historians and theologians, that many sacred icons that have been celebrated and worshipped in different religions, are claimed to not have been made by any human hand. Faces of Christ, portraits of the Virgin, Veronica's veil; there are many instances of these icons that are supposed to have fallen from heaven without any intermediary. To show that a humble human (an artist) has made them would be to weaken their force, to sully their origin, to desecrate them. / Bruno Latour, 2002.
Iconoclashes are made using all the images from the Metropolitan Museum´s public web archive that are tagged with the keyword God or Religion. These images were fed into Adobe Photoshop using an automated script that randomly creates mashups of deities, talismans, stellas, gods, scribes and statues. At first they seem like typical museum objects, easy to parse and forget, but then you realize you have no idea what it is you're really watching since it's an algorithm and not a human that has created these images of virtual artifacts.
The result is quite disorienting, causing a moment of puzzlement making it hard to read the images. You have to pause and try to figure out where they belong – what time period, what culture, what religion. On a sensory or phenomenological level they're ambiguous since Photoshop makes them look so real, but the space, the colors and the physics just don't add up.
Erik Berglin & Clement Valla
Photographer
Erik Berglin's practice is devoted to exploring the boundaries of what photography is and can be today.
His works are often humorous and usually have an unexpected twist. They range from interventions in public space, fact/fictional storytelling and appropriation of material found in old books or online. His practice is based around text and photographs but he rarely uses a camera, instead he generates imagery using customized computer algorithms or scissors.
His works stem from a conceptual tradition but feature coincidental, accidental and unexpected connections. Ordinary found images are altered or detached from their natural function with references to documentaries, art history and popular culture.
Each project is made with an esthetic aiming to be as different as possible to the previous. Subject matters also vary but often circulate around questioning the authenticity of photography. He is more interested in how the images are made, rather than what they depict. Having that said Berglins work is always trying to be visually interesting.
"Tulip Variation" was selected for the reGeneration show: "The Challenges of Photography and its Museum for Tomorrow" at Musée de l'Elysée in Lausanne (2020) and included in Thames & Hudsons new book "Flora Photographica: The Flower in Contemporary Photography" (2022). His first book "The Bird Project 2006 – 2017" won the Swedish Book Art Award 2021 and the Swedish Photo Book Price 2022.
Clement Valla is a New York based artist whose work considers how humans and computers are increasingly entangled in making, seeing and reading pictures.
He has had recent solo exhibitions at PC Galleries in Providence, XPO Gallery in Paris and Transfer Gallery in Brooklyn. His work has also been exhibited at ZKM, Karlsruhe, Germany; Draiflessen Collection, Mettingen, Germany; Stedelijk Museum, Breda, Netherlands; Bitforms Gallery, New York; Musée Cognacq-Jay, Paris, France; Haus der Photographie, Hamburg, Germany; Museum of the Moving Image, New York; KIM Contemporary Art Center, Riga, Latvia; Contemporary Art Museum, Raleigh; and The Indianapolis Museum of Art, Indianapolis;
His work has been cited in The Guardian, Wall Street Journal, TIME Magazine, El Pais, Huffington Post, Rhizome, Domus, Wired, The Brooklyn Rail, Liberation, and on BBC television. Valla received a BA in Architecture from Columbia University and an MFA from the Rhode Island School of Design in Digital+Media. He is currently an associate professor at the Rhode Island School of Design.
Erik Berglin & Clement Valla

Iconoclashes