This field is dedicated to tracking down photography projects, which revolve around a philosopher or have been inspired by his life, an aspect of his work or a specific concept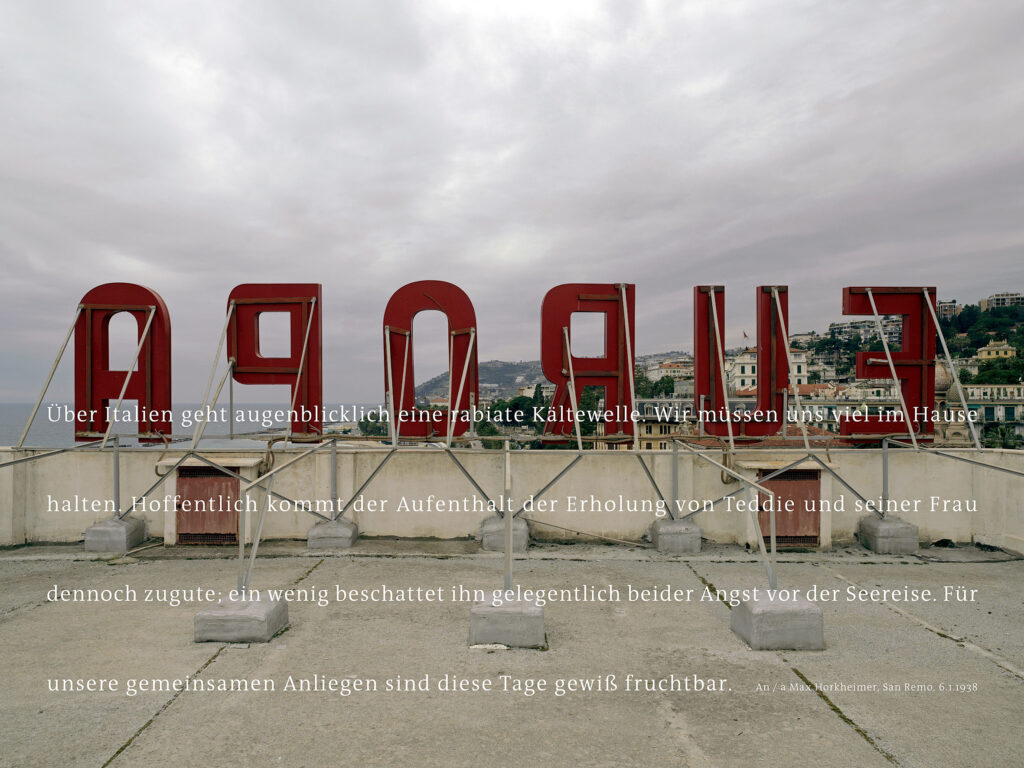 Read the abstract
"Konstellation Benjamin" is an image installation, based on 36 photographs color, printed on high quality "blue back" paper and glued directly onto the walls of the exhibition space. The work was created between 2005 and 2009: from Berlin (1933) in Portbou (1940) in thirty-six stills, cut out from the years of exile by Walter Benjamin. Each step is evoked by a photograph (selected from among hundreds of shots over four years), testimony to the current state of these places and non-places of memory, "captioned" by a quote taken from the correspondence of the German philosopher. A constellation of past and present, of photography and historical research, text and image.
The project is accompanied by a book in collaboration with Nathalie Raoux  featuring an afterword by Georges Didi-Huberman; published by Transphotographic press and Bucher Verlag, 2009.
Arno Gisinger
Visual Artist
Βorn in Austria in 1964. He graduated with a double major in German literature and history from the University of Ιnnsbruck, Austria, and got an MA on Photography from the École Nationale Supérieure de la Photographie in Arles, France.
Arno Gisinger works as a visual artist and a lecturer of Photography at UFR Arts, Philosophie et Esthétique in Université Paris 8.
His images test visual representations of the past through their different forms of transmission: witnesses, objects, and places. The function of archives, the ambiguous nature of documents and testimonies are central to his concerns. His interdisciplinary approach to his artistic practice has led to collaborative works with philosophers such as Georges Didi-Huberman and art historians. Artist-in-residence in London in 1996, in Paris in 2004, Vietnam in 2007, Rio de Janeiro 2013, Warsaw in 2017.
He has had more than 30 solo exhibitions including venues like Palais de Tokyo and Centre Pompidou (Paris) ; he has also participated in many group shows. His works have been showcased in many countries including Austria, China, Brazil, Lebanon, France, Germany, Luxembourg, Poland, Switzerland.
Among his several publications are Topoï (2013), Konstellation Benjamin (2009), Imagined Wars (2010) and Hotel Jugoslavija (2008). He gives lectures on photography internationally and conducts seminar workshops. Among the public collections that have acquired his works are MNAM / Centre Pompidou, CNAP, Musée des Beaux-Arts, Reims Collection of Contemporary Photography, Arts and Culture Division of the Federal Chancellery, Austria, Kunstsammlung des Landes Tirol, Kunstsammlung des Landes Vorarlberg, Austria.


Arno Gisinger's work is available on:
Arno Gisinger

Konstellation Benjamin